ScripTouch Kofax SignDoc Plugin
The Plugin runs on any Windows operating system from XP onwards and supports the following software available from Kofax:
SignDoc Desktop
SignDoc Standard
SignDoc Web
SignDoc Enterprise
SignDoc for Adobe Reader
SignDoc SDK
SignDoc Professional
SignWare SDK
The ScripTouch Kofax SignDoc Plugin enables use of Scriptel's ScripTouch signature pads with software from Kofax. The install package will be downloaded automatically after filling out the registration form below and clicking the Download button. After download, please open the ZIP file and read the Installation Guide carefully before proceeding.
You will need a ScripTouch signature pad with ProScript interface (models ST1400, ST1475, ST1500, ST1525, ST1550 or ST1570) and one of the above software packages from Kofax in order to use the plugin and begin capturing handwritten signatures.
SignDoc Desktop is electronic signature software that enables users to sign any PDF or TIFF with a handwritten signature. SignDoc Desktop also offers the ability to convert other popular document types into a signature-ready PDF.

Kofax® is a leading provider of software to simplify and transform the First Mile™ of customer engagement. Kofax TotalAgility®, combines award-winning capture, process management, data integration, mobile, eSignature and analytics capabilities into a unified process automation development and deployment platform. More than 20,000 customers globally rely on Kofax software to improve the customer experience, reduce operating costs, differentiate and grow.
More Information
Configure Scriptel Signature Pad for Kofax VRS
Instructions on how to enable the Scriptel TWAIN driver provided to be used with VRS / Image Controls (TWAIN on bottom) for capture into Image Controls applications such as Kofax Capture.
Steps
Run C:\Program Files (x86)\Kofax\ImgCtls\bin\ScannerConfigUtil.exe
A Scanner Configuration Utility box will display. On the left side (see image below) is a box labelled Limit scanner list to. To see the Scriptel pad, you need to allow non VRS-Certified scanners to show in the list.

Uncheck the VRS-certified scanners checkbox.
In the Available image devices window, you will see all of the available scanner drivers (see below).

Expand the Scriptel folder. Click Scriptel ScripTouch.

Click Configure Sources…

Click Create Standard Sources.

Click Properties.

Make sure that Enable TWAIN user interface is selected.
This will allow the Scriptel interface to pop-up.

Click OK.

Click Close.
Done
Your source should now be available to Kofax Image Controls applications like Kofax Express and Kofax Capture.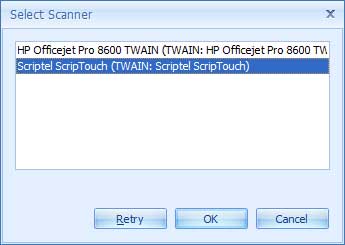 Using the Scriptel Signature Pad
Requesting the scanner (acquire) will launch the listener and allow entry via the pad.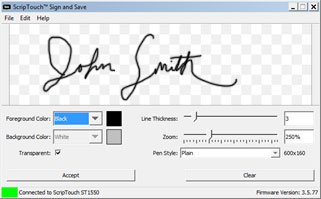 Troubleshooting the Scriptel TWAIN driver
Set Environment variable:
SCRIPTEL_TWAIN_LOG_FILE=C:\Temp\Scriptel
Creates a log file as: scriptel_twain.txt
Register to Download Form