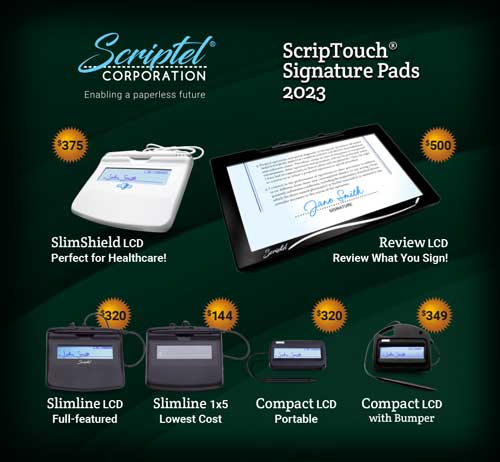 SCRIPTEL CORPORATION leads the way in rugged, reliable eSignature and digitizing technology for busy environments. Our Citrix-Ready, plug-and-play hardware and software solutions make easy work of document signing, electronic record-keeping and practice management in the Dental, Healthcare, Retail, Tax Prep and other industries.
Scriptel (est. 1982) has a history of leading through innovation, bringing the first peripheral to mimic high-quality pen input on an LCD screen to market. Today we produce and provide unmatched support for a full suite of digital signature pad and workflow products, including our EasyScript™, mSign® and ScripTouch® lines.
Scriptel is based in Columbus, Ohio, and has deployed more than 3 Million products worldwide. Which of our hardware and software solutions best suit your needs? Find out! Contact Us!