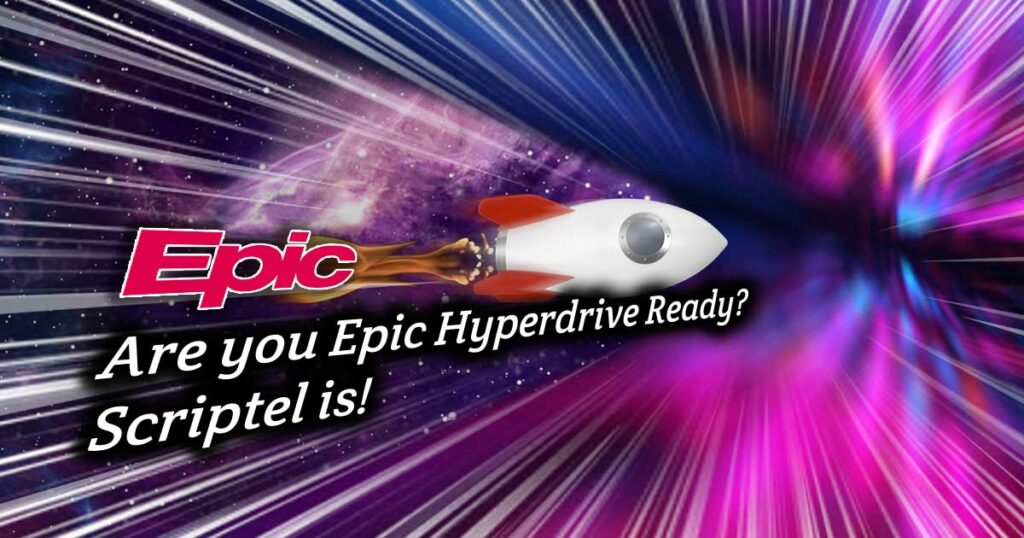 Are You Epic Hyperdrive Ready? Scriptel is!
Organizations expect to begin testing their integrations in Hyperdrive by Q4 of 2021, with the first end users switching to use Hyperdrive to access Epic in late 2022.
Most organizations will transition their users to Hyperdrive in 2022 and 2023, though a few may not complete this transition until later. During the transition, most organizations will have some users using Hyperspace and others using Hyperdrive, and both clients will be installed on the same workstations.
What is Epic Hyperdrive?
Epic is moving its application, Hyperspace, to a web-based framework. Epic Hyperdrive is a front-end, web-based browser that accesses Epic modules. It is faster, more efficient and easier to deploy, but code-level changes are required for current web- and desktop-based Hyperspace integrations.
Many Epic workflows rely on integrations with other products for users to complete a task. If these integrations are not Hyperdrive ready, Epic users may not have access to features they are used to, while waiting for these products to catch up.
Scriptel leads the way!
Scriptel electronic signature capture products and software solutions are already compatible with Epic Hyperdrive, so Epic customers can count on their Scriptel pads continuing to work through the transition period.
What will this mean for Epic customers?
U.S. customers will need to transition to Epic Hyperdrive before upgrading beyond the May 2023 version of Epic. Customers in international markets will work with Epic on their timeline for Hyperdrive transition.
For users, the shift should be seamless. But for the enterprise content managers and Epic media manager administrators of the world, there's a lot of prep going on behind the scenes. After all, without a seamless integration with Hyperdrive, your staff risks losing access to vital patient data.
Does this impact many hospitals?
More than 250 million patients have an electronic record in Epic. At 29 percent, Epic maintains the largest EHR market share for acute care hospitals, according to a May 2020 KLAS report.