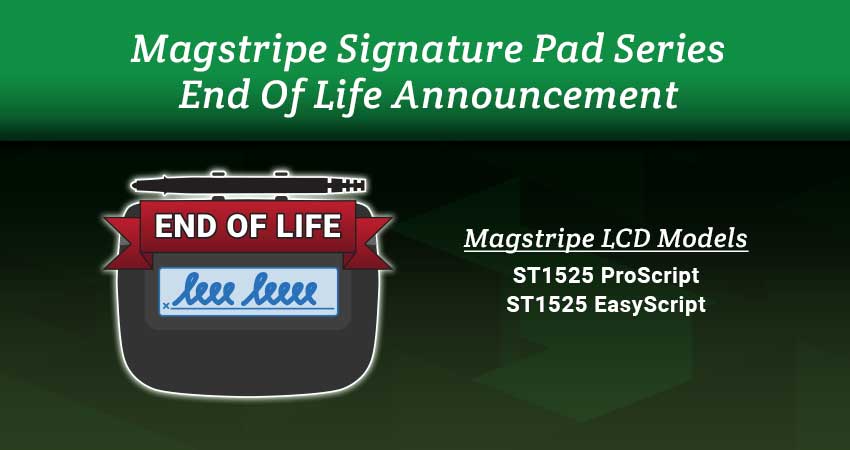 Magstripe Signature Pad EOL Announcement
Scriptel Retires its Magstripe Signature Pad Product
COLUMBUS, OHIO (Jan 20, 2022) – The Magstripe LCD signature pads are on end-of-life. Customers have been directly informed. There is no recommended replacement product as none of our other products have a magnetic stripe reader. The specific model numbers affected are the ST1525 and ST1526 their prefix and suffix variations.
"The Magstripe series was the lowest priced signature pad with a magnetic stripe reader for under $300 when it was introduced. Recent changes in critical electronic components availability make it impossible to continue production," said Scriptel Corporation CEO John Powers.
Scriptel will continue to honor existing warranties on the Magstripe series signature pads.
For any questions about this change, please contact our sales team at (877) 848-6824 or by email at sales@scriptel.com.
###
About Scriptel
SCRIPTEL CORPORATION leads the way by advancing rugged, reliable eSignature and signature capture technology. Our Citrix Ready, plug-and-play hardware and software solutions make easy work of document signing, electronic recordkeeping and practice management in Dental, Healthcare, Retail, Tax Prep and other dynamic environments.
Scriptel (est. 1982) has a history of leading through innovation, bringing the first peripheral to mimic superior pen input on an LCD screen to market. Today we produce and provide unmatched support for a full suite of ScripTouch® signature pad and workflow products, including EasyScript™, ProScript™ and mSign®.
Scriptel is based in Columbus, Ohio, and has deployed more than 3 Million products worldwide. Which of our hardware and software solutions best suit your needs? Find out! Request an ISV Integration Trial at Scriptel.com.