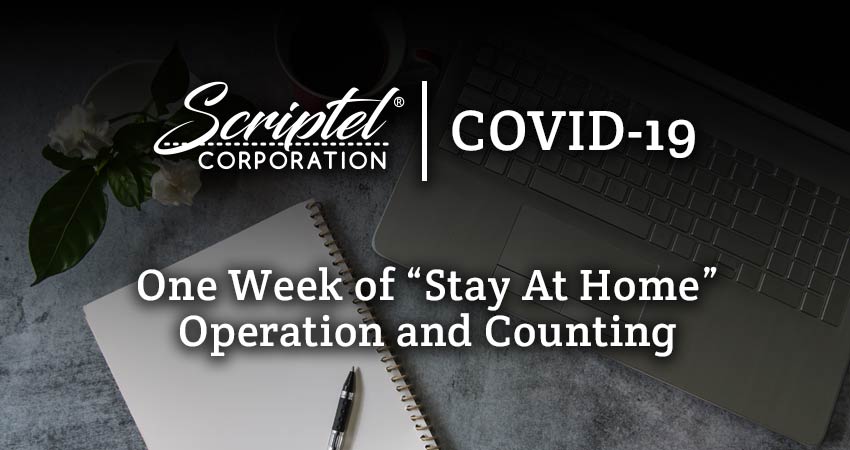 COVID-19: One Week of "Stay At Home" Operation and Counting
Update of March 30, 2020. Read previous posts starting with my March 24 COVID-19 update.
Today is National Doctors' Day. Shout out to doctors and all medical professionals that are our front line in this crisis. Thank you from everyone in the "Scriptel family!"
Scriptel Corporation has now been operating under "Stay At Home" rules since March 23, 2020. There have been no new regulations or orders in the past week that might affect our ability to operate. I thought I would use this update to inform you about what Scriptel has been doing to help curb the spread of the coronavirus.
We are enforcing minimum operations at our offices and are able to do this while maintaining inter-employee distancing, hand-washing and surface disinfecting rules. All shipments, both receiving and shipping, still occur at our main office address at 2178 Dividend Drive, Columbus, OH 43228. We made all expected shipments on time last week and do not expect any delays going forward.
We have successfully moved our signature pad assembly and packaging operations into "Work From Home." This is enabled by investments that Scriptel made in its production IT tools over the past three years. Manufacturing quality control is automated and effectively managed from the cloud. As a special step for the current situation, all electronic signature pads have been getting an extra final wipe with isopropyl alcohol prior to packaging since March 16.
Scriptel Corporation will take care of its employees during this crisis. Scriptel has opted in to the Federal Families First Coronavirus Response Act (FFCRA) and will provide all employees with the COVID-19 extended sick and family leave benefits described therein. We applaud the recently passed and signed Federal Coronavirus Aid, Relief, and Economic Security Act (CARES).
I am proud of our team. They have handled this growing crisis with remarkable resilience and flexibility. Investments made in the past years are proving themselves with this very smooth transition to "Work From Home". We can maintain this condition for an extended period of time. I am happy to be able to assure our customers that Scriptel Corporation is actively implementing social distancing and doing its part to "flatten the curve" in service to our society and communities. I can also assure both our customers and suppliers that we remain in operation as a supplier to essential businesses and operations with sufficient capacity for deliveries and the same outstanding pre- and after-sales support that made Scriptel the brand of choice for electronic signature pad hardware.
Thank you, make sure that you are also implementing and exceeding social distancing recommendations in your own operations, and please stay safe and healthy.
Best regards,
Stephan Herron
CEO, Scriptel Corporation