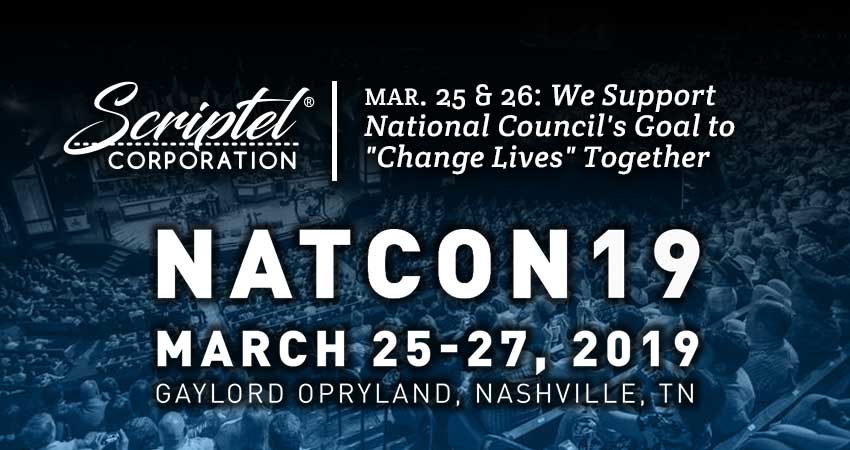 MARCH 25 & 26: Transition to Digital at NATCON19
Scriptel Supports National Council's Goal to "Change Lives" Together
While enabling a paperless future, Scriptel Corporation enables you to ensure a bright future for the behavioral health sector. Join Scriptel staff at NatCon19, in Nashville, Mon., March 25, and Tues., March 26, as we improve care delivery and service levels by easing the transition to a digital workflow. Meet us in Booth 903 at Gaylord Opryland Resort & Convention Center (2800 Opryland Drive) where we'll answer questions about:
Paperless technology for behavioral health
Scriptel eSignature hardware & software
EHR software & Citrix compatibility
Problem solving thru digitization
ISV integration -&- more!
"Our ScripTouch signature pads are popular with users of electronic health record software," says Scriptel Customer Relations & ISV Manager Randa Gallagher, "including systems which deploy Citrix virtualization products. Then there's our newest product—mSign—which lets you quickly turn iOS or Android mobile devices (i.e., smartphones, tablets, laptops) into wireless signature pads. Pop by and give it a try!"
In her event program "Welcome" letter, National Council for Behavioral Health President & CEO Linda Rosenberg urges NatCon19 attendees to take advantage of learning tracks, like specialty coursework and TED-style Talks, but to also kick up their heels.
"We've come to Music City at a pivotal time in our nation's history," writes Rosenberg, "[…] but we didn't come here to wring our hands. We came to celebrate the first 50 years of the National Council and (to) look ahead to the next 50."
As you look ahead, celebrate the fact that Scriptel saves time, money and worry:
Opt for rugged, reliable Citrix Ready signature pads
Transition quickly with Plug & Play USB integration
Enjoy 3-Year Warranties & overnight exchanges
Save $100-150 per unit based on avg. price
Superior Technical Support, modern interfaces and user-friendly apps are included at no extra charge. The full conference runs March 25 to 27. For NatCon19 details, visit TheNationalCouncil.org. For convention center info, visit Marriott.com. For a 30-Day Risk Free Trial from Scriptel, call (877) 848-6824 or visit Scriptel.com.