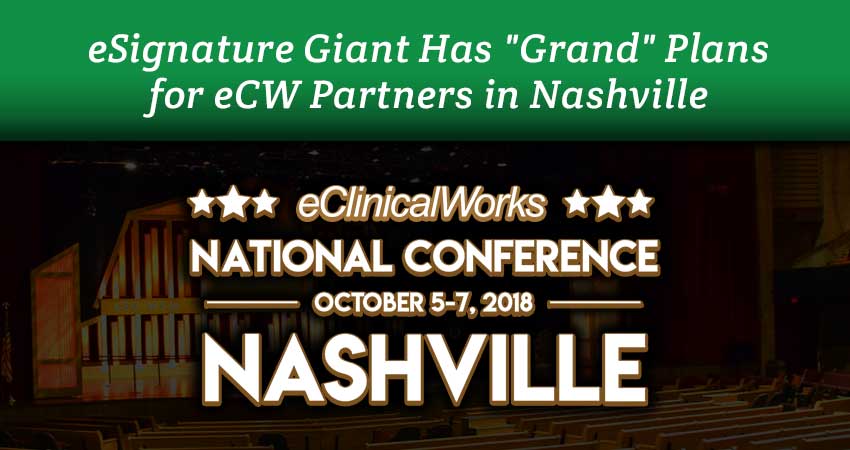 eSignature Giant Has "Grand" Plans for eCW Partners in Nashville
Scriptel says "stay tuned" during eClinicalWorks National Conference (Oct. 5-7)
COLUMBUS, OHIO (Sept. 25, 2018) – When it comes to eClinicalWorks special events, healthcare professionals can always look forward to memorable moments.
Scriptel Corporation has experienced a slew of its own over the years. What has that meant for this eSignature technology giant and health IT products vendor? Scriptel staff has a blast sharing its digitizing solutions at eClinicalWorks User Days in Phoenix, Seattle, and points in between. Heck, they made a big splash when Scriptel served as Silver Sponsor of the eClinicalWorks National Conference on Lake Grapevine in 2017.
Everyone at Scriptel enjoys supporting eClinicalWorks and its amazing clientele. So, while other commitments will keep them from sharing directly in the fun had by eClinicalWorks team members and attendees of the eClinicalWorks National Conference Oct. 5-7, 2018—at Gaylord Opryland Resort & Convention Center in Nashville—Scriptel will be there in spirit and on social media.
A conference hall location of 2800 Opryland Drive puts event attendees within walking distance of area attractions only Nashville has bragging rights to:
Grand Ole Opry (0.4 mi.)
Gaylord Resort Gardens (0.1 mi.)
Madame Tussauds Nashville (0.6 mi.)
Cooter's Museum & Store Nashville (0.4 mi.)
Willie Nelson & Friends Museum/General Store (0.3 mi.)
"As a top performer in the eHealth IT sector," says Stephan Herron, CEO & President of Scriptel, "eClinicalWorks has been and continues to be a stellar enterprise partner to us. Working closely with one another, we strive to provide the best service, support, and end-user experience anywhere. So, despite being outside of Tennessee this October, we're excited to stay in touch on social media and keep up on what's happening there."
Indeed, those at the eClinicalWorks National Conference in Nashville can look forward to daily posts from Scriptel headquarters on Facebook, Twitter, and LinkedIn. In "Moment of the Day" style missives, the company plans to spread word of the health information management event far and wide through its own network of loyal followers.
"Lots of things make Scriptel unique," says Customer Relations & ISV Manager Randa Gallagher. "Our dedication to customer engagement is one. Our appreciation for the national and global success of partners like eClinicalWorks is another. I'll miss the conference, but I'm glad we'll still 'be there' in our own way. If you're not already following us on social media, do it now. Don't miss out—and stay tuned!"
The weekend-long eClinicalWorks 11th Annual National Conference kicks off Fri., Oct. 5, with 4,000-plus healthcare industry professionals traveling to Nashville to enjoy:
Informative Exhibits
115+ Breakout Sessions
Hands-on Education & Training
Ample opportunities for Networking
Explore Nashville solo & planned activities
They can also claim a 30-Day Risk Free signature pad trial at scriptel.com/sales/30-day-evaluation-kit.
eClinicalWorks offers healthcare technology solutions in partnership with Scriptel, which provides secure, robust support for its cloud-based service offerings. This then allows health IT and other healthcare professionals: Focus on care delivery, ensure optimal levels of information security, fulfill related obligations, and achieve zero-failure rates.
Scriptel has deployed more than 3 Million rugged, hassle-free, Citrix-Ready handwriting recognition solutions (i.e., capacitive touchscreens, signature pads) worldwide. Each of its USB-interface and custom OEM components is backed by Industry Best service, unrivaled technical support, and user-friendly pricing.
Save time, money, and worry—at Scriptel.com.
###
About Scriptel
SCRIPTEL CORPORATION leads the way by advancing rugged, reliable eSignature and signature capture technology. Our Citrix Ready, plug-and-play hardware and software solutions make easy work of document signing, electronic recordkeeping and practice management in Dental, Healthcare, Retail, Tax Prep and other dynamic environments.
Scriptel (est. 1982) has a history of leading through innovation, bringing the first peripheral to mimic superior pen input on an LCD screen to market. Today we produce and provide unmatched support for a full suite of ScripTouch® signature pad and workflow products, including EasyScript™, ProScript™ and mSign®.
Scriptel is based in Columbus, Ohio, and has deployed more than 3 Million products worldwide. Which of our hardware and software solutions best suit your needs? Find out! Request a 30-Day, Risk-Free Trial at Scriptel.com.