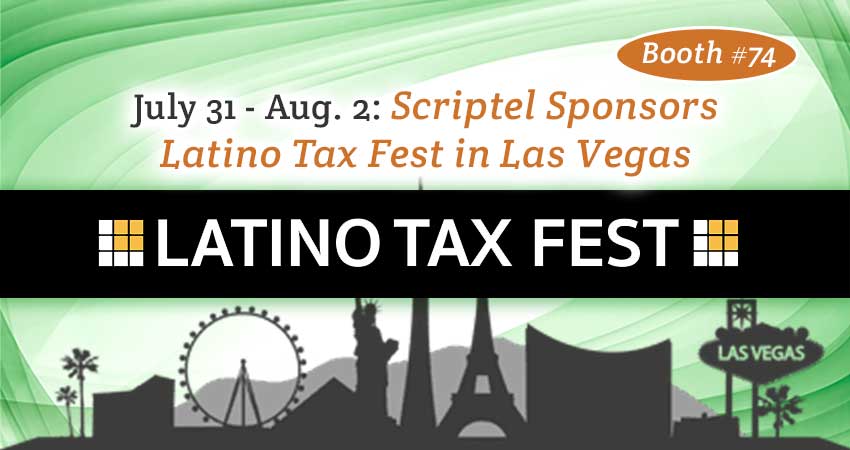 Scriptel Sponsors Latino Tax Fest in Las Vegas July 31 thru Aug. 2
"Bienvenidos!" eSignature Leader Welcomes Tax Pros to 2018 LTPA Convention
COLUMBUS, OHIO (July 31, 2018) – The U.S. Dept. of Commerce Minority Business Development Agency says data "clearly shows" the large impact U.S. Latino business owners have on the economy. Scriptel Corporation is taking note.
Some 1.74 Million U.S. business owners are native-born or immigrant Latinos. Their combined yearly income, the MBDA found, totals roughly $61.3 Billion. Members of the Latino Tax Professionals Association—some of whom will be at the MGM Grand, in Las Vegas, July 31 thru Aug. 2 for Latino Tax Fest—help them account for those numbers.
"We are builders," notes the LTPA, the organization hosting Latino Tax Fest. "We help our community build their companies for growth and expansion."
Also hosted by Xero, Paychex, and Canon, the event is said to be the largest gathering of tax professionals and accountants who serve the Latino market. Each year 2,000-plus LTPA members join forces in Vegas for tax updates, training, networking and fun.
Scriptel—the world leader in digitizing and eSignature technology—is a Sponsor.
"We welcome LTPA member questions and are excited to show them how they can grow their own businesses," said Scriptel President and CEO Stephan Herron. "The work they do is critical, given that the U.S. Latino market is historically underserved."
"Our handwriting recognition and electronic signature solutions can help Latino business or enterprise users within the tax and accounting spheres advance their digital workflow initiatives, reduce paper use, reduce print waste, and use our document management tools to securely and accurately file critical tax data on behalf of their clients."
Visitors to Booth #74 at this year's Fest can expect a warm, "Bienvenidos!" from Scriptel staff who will welcome them with tutorials and demonstrations of its most sought after tax preparer solutions—which are proven compatible with Adobe, CrossLink, Intuit, TaxWise, uTax and related titles for tax professionals:
Scriptel software-integrated APIs
ScripTouch electronic signature pads
ScripTouch mSign apps (Android and iOS)
ScripTouch Sign and Save software packages
The LTPA is a professional trade organization supporting excellence in tax preparation and other services aimed at the Spanish-speaking taxpayer. Its members work in all areas of tax practice and include: individual practitioners, accounting and bookkeeping service firms, enrolled agents, certified public accountants, and immigration attorneys.
Highlights of its 2018 Latino Tax Fest include:
IRS Annual Filing Season Program (AFSP) credits
California Tax Education Council (CTEC) credits
Tax courses offered en Español and in English
Opportunities for networking and growth
Pool party, live music—y más
Tax preparers, CPAs and other tax pros who are unable to make it to Vegas can visit LatinoTaxPro.org for details on: membership benefits, continuing education (including bilingual options), testing programs, self-guided study, and special events like this one.
Scriptel is proud to partner with Latino clients from all corners. Founded in 1982, the company continually improves the way it does business to offer Industry Best service and support for a range of industries. With more than 3 Million USB-interface capacitive touchscreens and signature pads deployed worldwide, it offers something for everyone.
"The U.S. continues to be a melting pot," added Herron. "Cubans, Colombians, Dominicans, Guatemalans, and Salvadorans are all represented—with more than 1 Million U.S. residents hailing from each of these distinct cultures. Others, too, also have a place here. The Latino Tax Fest brings us all together to celebrate that diversity."
In fact, Pew Research Center data shows, the U.S. Latino population reached 57.5 Million by 2016 and is a "principal driver of U.S. demographic growth," accounting for 50 percent of the nation's population growth since 2000. Indeed, the number of individuals migrating to mainland U.S. from Puerto Rico and Latin America is still climbing.
Visit Booth #74, email Sales@Scriptel.com or visit Scriptel.com to learn more.