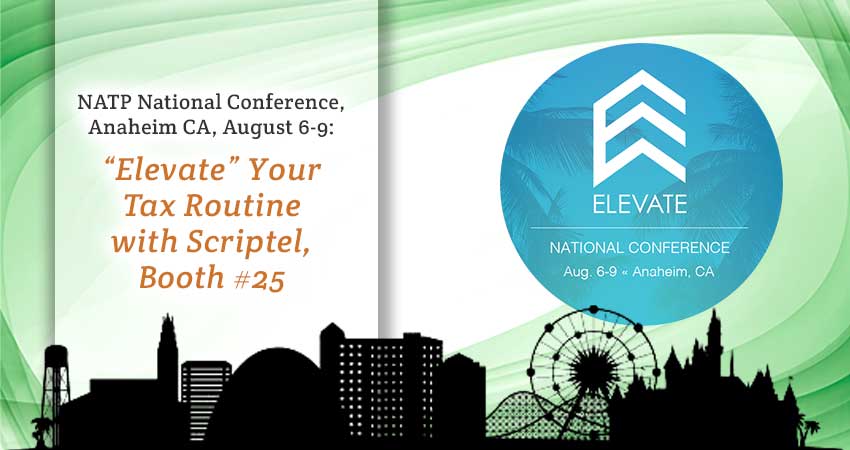 AUG. 6-9: "Elevate" Your Tax Routine With Scriptel
Visit Booth 35 at the NATP National Conference (Anaheim, Calif.)
Elevate the way you do business, in plenty of time for 2018 tax filing.
Explore new technology and service offerings from Scriptel Corporation at the "Elevate" National Conference Aug. 6 thru 9 in Southern California. The event is hosted by the Nat'l. Assoc. of Tax Professionals at the Anaheim Marriott (700 W. Convention Way).
Scriptel (founded in 1982 and based in Columbus, Ohio) is among the "outstanding vendors" taking part in the event. Known for its Citrix-Ready electronic signature pads and more, the company provides high reliability and amazing warranties—in addition to Industry's Best service, software integration support, and truly competitive pricing.
New enterprise solutions on display and ready for demo by Scriptel staff will include the EasyScript 3.0 interface (with no client install API for browser-based applications) and mSign software, which can turn your smartphone into wireless signature pad!
The Anaheim-based conference offers opportunities for continuing education, targeted tax discussions, networking, and relaxation. To ensure education for everyone, the NATP has even scheduled eight sessions aimed primarily at Spanish-speaking professionals. Both novices and long-time tax preparers will enjoy:
Exhibits and products
Hands-on demonstrations
Seminars by industry leaders
Special topics (i.e., Form 1040, tax law)
With 154 total hours of instruction available, highlights include:
40 "Tax Cuts and Jobs Act" courses
28 hrs. of Continuing Professional Education
8 hrs. of IRS representation instruction for Enrolled Agents
8 hrs. of Spanish education, 4 hrs. of tax updates—and more!
There's also a House of Blues concert and "An Evening at the Park" at Disneyland®.
"Tax preparers, accountants, and others using programs like Adobe, CrossLink, Intuit, TaxWise, and uTax," says Scriptel President and CEO Stephan Herron, "benefit greatly from our eSignature, handwriting recognition, and document management tools."
Stop by Booth 35. Can't be there? Email Sales@Scriptel.com or visit Scriptel.com.