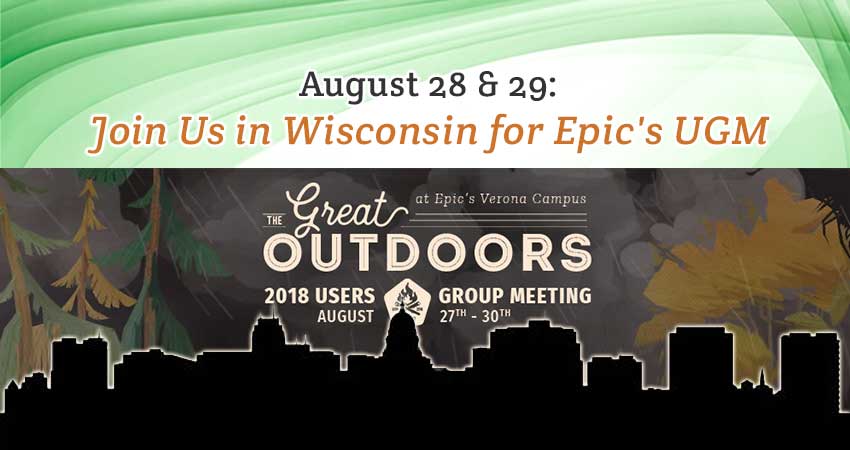 AUG. 28 & 29: Join Us in Wisconsin for Epic's UGM
Health IT Leader Showcases 'Cool Stuff' at 2018 User Group Meeting
Q: What do fresh air, jamborees, and cutting edge health IT products have in common?
A: Scriptel Corporation—the world leader in digitizing and eSignature technology.
"The Great Outdoors" 2018 User Group Meeting at Epic's Verona Campus (Verona, Wisconsin) is the perfect backdrop for Scriptel's paperless technology hardware and software solutions, which help you ensure seamless, in-house handling of tasks like:
EHR Management
Health IT Management
Practice Management -&-
Clinical Care / Patient Care
"The Epic UGM gives healthcare professionals a chance to explore and adopt leading document management and health information security technologies," says Scriptel President and CEO Stephan Herron, "It does that in a fun, relaxed atmosphere that promotes peer support and best practices. We're excited to be there."
Survey the changing healthcare landscape. Get guidance and feedback from like-minded professionals. Generate new ideas and glean insights into how cutting-edge products and apps will help you lead the way within your own organization.
Event kick-off is Sun., Aug. 26. View the full schedule, register, and get travel tips at UGM.Epic.com, where amazing graphics and animation set the tone for this unique meeting. Enjoy a Monday welcome dinner, a Tuesday night jamboree and more!
Scriptel dominates the signature pad and digital workflow markets—with more than 3 Million Citrix Ready handwriting recognition and electronic signature solutions deployed worldwide in a range of dynamic environments, including healthcare. Its products are backed by Industry Best service, unrivaled technical support, and user-friendly pricing.