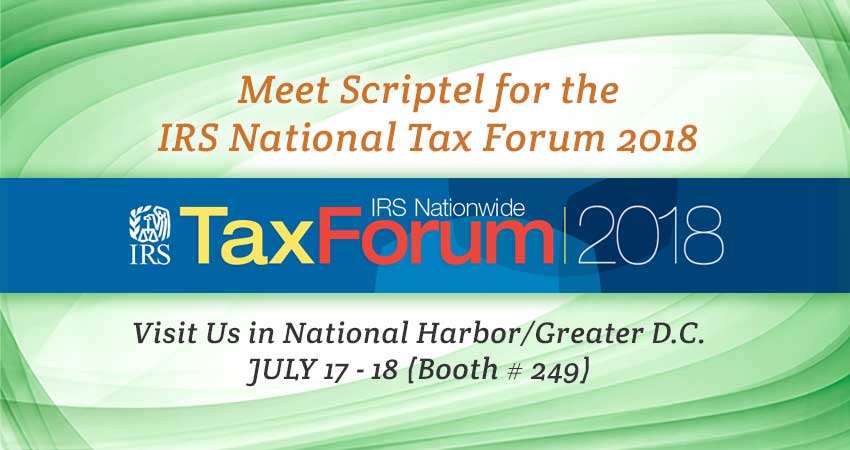 Meet Scriptel in Maryland for 2018 IRS National Tax Forum
JULY 17 & 18 (Booth # 249): Visit Us in National Harbor/Greater D.C.
Are you a tax pro on the go? Luckily, Scriptel makes an app for that!
Whether you're a tax preparer, CPA, Certified Financial Planner, or other professional, don't be confused by paperless technology. Leverage it for your benefit! Learn how at the 2018 IRS National Tax Forum being held July 16-19, 2018, at the Gaylord National Hotel & Convention Center at 201 Waterfront St., in National Harbor, Maryland.
Scriptel Corporation — the world leader in electronic signature and digital workflow technologies — is proud to once again participate in the tax training and networking conference. Backed by Industry Best service and unrivaled technical support, its products make easy work of tax preparation, submission, and authentication via:
ScripTouch eSignature hardware
ScripTouch Sign and Save software
ScripTouch mSign software and mobile apps
"Our electronic document management solutions are CrossLink 1040, Intuit, TaxWise, and Adobe compatible," says Customer Relations & ISV Manager Randa Gallagher, "ensuring accurate, timely, and secure processing of returns and other client data."
Scriptel staff will offer targeted solutions for busy tax professionals at the Expo Hall in Booth # 249 on Tues., July 17 (11am-6pm), and Wed., July 18 (10am-2:30pm). Get a hands-on demo, challenge them with your questions, and spin the prize wheel—as you explore the best in cutting-edge hardware, software, and apps for your business model.
Highlights of the 2018 IRS NTF National Harbor conference include:
Exhibits – Expo Hall open Tuesday, 11am-6pm, and Wednesday, 10am-2:30pm.
Workshops – Take part in hands-on workshops capped at 200 participants each.
CE Credits – Get (1) CE credit for each 50-min. seminar successfully attended.
CFP Training – Earn Certified Financial Planner Board of Standards credits.
Networking – Mix, mingle, nosh, share best practices … or simply relax.
For a conference schedule or to register visit IRSTaxForum.com. Client case resolution services may still be available, by appointment. Supplemental online coursework is included with registration via IRSTaxForumsOnline.com.
Visit Booth # 249 and learn more at Scriptel.com.