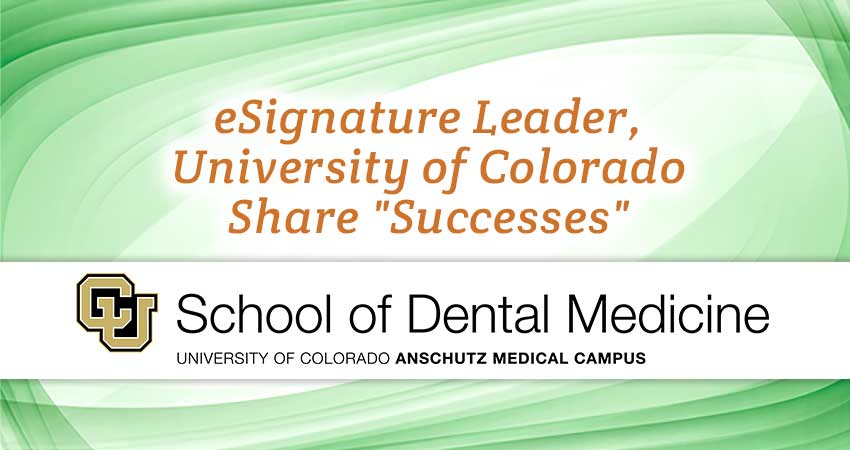 eSignature Leader, University of Colorado Share "Successes"
Scriptel Promotes "Peak Performance" as axiUm Gold-Level Sponsor in Aurora
COLUMBUS, OHIO (July 24, 2018) – Powering the future of integrated health is more than a mantra for the University of Colorado School of Dental Medicine. It is a rallying cry for peak performance in every sector.
"True collaboration among health and health IT professionals is the key to providing patients with cutting-edge clinical care which improves their overall wellbeing," says Stephan Herron, President and CEO of Scriptel Corporation.
"By partnering with the CU School of Dental Medicine, we've had the unique opportunity to add to their list of successes and our own—advancing practice management initiatives aimed at improving health information management and patient care outcomes."
The university's dental clinics provide nearly 100,000 clinical visits yearly. Key stakeholders at CUSDM recently made a move to improve its delivery of care even further, purchasing 200 chairside digital signature capture pads from Scriptel.
"Scriptel's support during the buying and implementation process was great," says CUSDM Infrastructure Engineer Ernesto Jamison. "They even went above and beyond to find solutions to issues we were having on our end."
The school's transition to Citrix-ready Scriptel Compact LCD ST1550 ProScript-equipped solutions, at a cost 30% below competing products, continues to result in:
Greater compatibility (i.e., Citrix XenApp, VMware View)
Seamless integration with axiUm dental software
Increased staff efficiency and satisfaction rates
Highly compliant remote consent form signing
Shorter patient wait and processing times
The Scriptel support team remained at the ready, responding immediately to CUSDM's inquiries and arriving at optimal configuration settings for uninterrupted performance.
Located on the University of Colorado Anschutz Medical Campus, the CUSDM is nationally-recognized for its innovative education programs, research activities, and commitment to person-centered care. It is also the setting for the 2018 axiUm Consortium Midyear Meeting themed "Peak Performance: Trails to Success 2018."
Scriptel is a Gold-Level Sponsor of the event which will run Wed., July 25, through Fri., July 27 from 8am to 5pm MT. CUSDM is located at 13065 E. 17th Ave., in the growing suburb of Aurora (pop: 361,710) east of Denver.
The three-day consortium is a gathering of dental school and dental organization professionals who utilize axiUm electronic health record (EHR) products. Topics of discussion will include: best practices, clinical operations, technology, business processes, research, and education.
"It's an amazing opportunity for all of us," adds Herron, noting that Scriptel will both sponsor and lead a presentation at this year's consortium. "Being deeply involved in the event is our way of reinforcing our commitment to hardware and software excellence, as a leader in emerging eSignature, capacitive touchscreen, and paperless technologies."
Founded in 1982, Scriptel continually improves digital workflows while providing top-tier support for information security, document management, and back-office computer system networks. Its drive to help clients achieve a zero-failure rate is unparalleled.
Along with Android and iOS eSignature technology apps of special interest to health systems, hospitals, and large-scale enterprises, its offerings include:
ScripTouch Sign and Save software packages
ScripTouch electronic signature pads
Scriptel software-integrated APIs
Custom OEM components
More than 3 Million of its native USB end-to-end signature capture device and handwriting recognition solutions are deployed worldwide in healthcare, Point-of-Sale and other dynamic environments.
Improve your own organization's performance levels—at a great price point, including superior technical support and warranty programs—by emailing Sales@Scriptel.com. Attending the event? Ask presenter Steve Sedaker how Scriptel can help you!
Click HERE to learn more about Scriptel's collaboration with CUSDM.