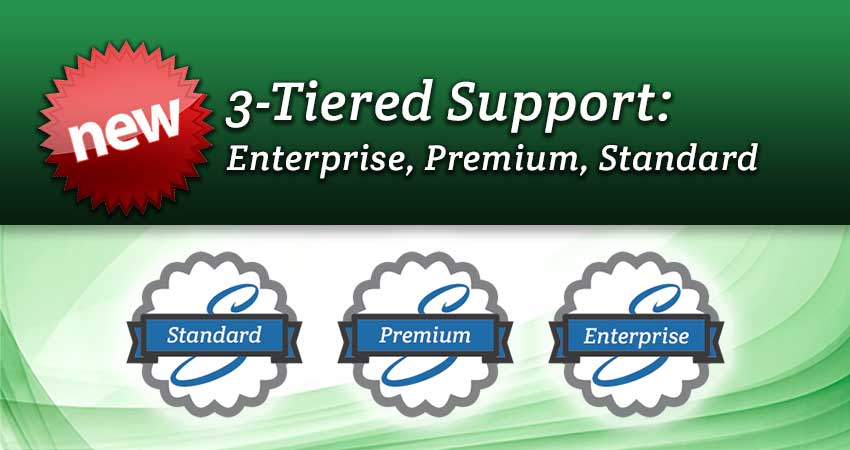 New 3-Tiered Support: Enterprise, Premium, Standard
Reduce downtime and enhance UX with Scriptel's new Extended Support Agreements
COLUMBUS, OHIO (May 15, 2018) – Keeping pace with technology while minimizing downtime can be a challenge. Yet, Scriptel Corporation is reversing that trend.
The leader in digitizing technology solutions recently launched a three-tiered Extended Support Agreement program, helping organizations worldwide stay steps ahead of the competition and seamlessly adjust to rapid changes within their respective industries.
"Scriptel hardware and software end users around the world have a distinct need to achieve and maintain a 'zero failure' rate," says Scriptel President & CEO Stephan Herron. "With our tiered support packages, they get the exact level of service and support they want and need—when they want and need it most.
"That enhances UX internally, enhances our clients' ability to deliver an exceptional user experience for their own clientele, and minimizes downtime overall."
As health care agencies transition to fully electronic health record (EHR) systems, an increasing number of back-office computer systems and networks are then tasked with operating in sync—so that they continue to perform well, in tandem with one another.
Health organizations and hospitals deploying multiple Scriptel signature pads will benefit most from the highest level of support: Enterprise. Sophisticated IT installations like theirs often require use of Citrix, VMware or both. Enterprise users get priority access to Scriptel's technical team, during periods of critical need, and additional software utilities.
"With a range of technologies to oversee and manage already," adds Herron, "in-house health IT staff feel understandably overwhelmed. Our trio of Extended Support programs solves that problem, by making sure everything goes off without a hitch. If those systems fail to 'play nicely' together, our new options ensure minimal downtime."
Scriptel's Extended Support Agreements give business users of its rugged, reliable eSignature capture pad hardware and handwriting recognition software solutions three robust, time-saving options to choose from:
Standard — the best in the industry
Applies to all Scriptel product purchases
Technical Support available 8am-5pm ET
RapidCare overnight replacement (contiguous U.S.)
Premium — when uptime is important
Standard-level perks PLUS all of the extras listed here:
+ Registration/Certification of related systems
+ Unlimited Remote Support 8am-5pm ET
+ Priority service beyond Standard levels
+ Physical Simulation Setup, as needed
Enterprise — mission-critical support for mission-critical systems
Premium-level perks PLUS all of the extras listed here:
+ Designated Key Engineers (Primary/Backup)
+ On-Site Support for complex problems
+ Software Customization via coding
+ Free Scriptel Utility Software
Scriptel electronic signature solutions are proven to streamline patient registration, document management, and information security for improved UX at every level.
Since 1982, Scriptel has been the leader in capacitive pen and other digital workflow technologies. It has deployed more than 3 Million paperless technology solutions worldwide in clinical care, Point-of-Sale (POS), and other dynamic environments. Its no-scratch, glass-surface ScripTouch electronic signature pads, Sign and Save software packages, and custom OEM components deliver high reliability backed by Industry Best service and unrivaled technical support.
Ready to upgrade to the Premium or Enterprise levels? Email Sales@Scriptel.com. Not a customer yet? Request a 30 Day Risk-Free Trial by calling (877) 848-6824. Need help with an existing product? Contact (844) 972-7478 or Support@my.Scriptel.com.
Learn more at Scriptel.com.