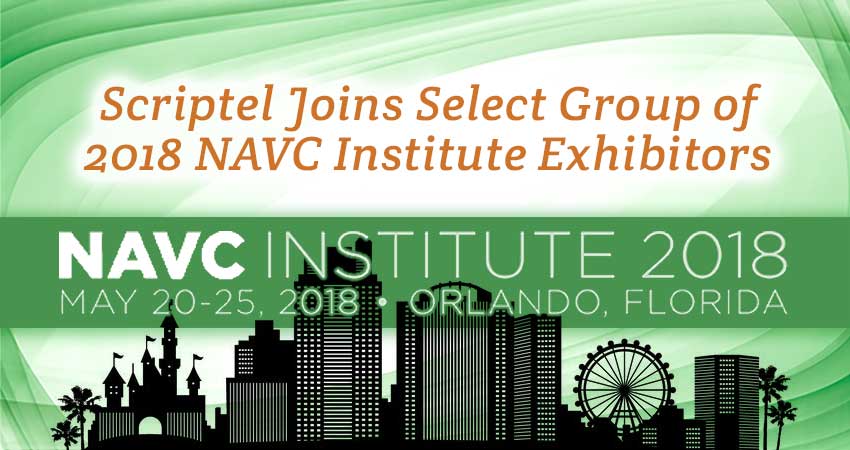 Scriptel Joins Select Group of 2018 NAVC Institute Exhibitors
One of 40 exhibitors, Scriptel gives veterinarians insight into digitizing solutions
COLUMBUS, OHIO (April 16, 2018) – The North American Veterinary Community will host its 2018 NAVC Institute for veterinarians May 20-25 at Caribe Royale Orlando.
With an expo hall limited to 40 exhibitors, in total, Scriptel Corporation is eager to showcase its practice management software, patient registration, and electronic signature solutions of benefit to physicians who specialize in animal health.
"Meeting with veterinary practice clients in an intimate setting like this one truly allows us to serve them better," says Scriptel President & CEO Stephan Herron.
"We're eager to learn more about their individual practices and the unique challenges they face—ones we'll address by helping them improve their ability to deliver clinical care and by expanding their digital workflow capabilities."
Along with demonstrations and information about the company's eSignature capture pad hardware and handwriting recognition software, Scriptel staff will share insights aimed at helping veterinary physicians and their in-house practice staff:
Save time with electronic health records
Save money by reducing print/paper waste
Benefit from eSignature and related technology
Improve patient care for animals and animal owners
Transition quickly to beneficial Citrix-Ready solutions
Scriptel staff will be on hand—at the 2018 NAVC Institute—Mon., May 21, through Thurs., May 24, guiding veterinarians and veterinary practice staff through the paperless technology, document management, and health information management process.
"Health IT concerns are universal," explains Steve Sedaker, Dir. of Strategic Marketing for Scriptel. "Information security and authentication measures have an impact on everything from how consent forms are handled to the archiving of client records."
"That's true for Scriptel business users of all types and sizes."
According to the NAVC, Institute attendees routinely scour the exhibit hall in search of solutions to long-standing problems which affect their ability to deliver Industry Best service to their own clientele. Sedaker says Scriptel looks forward to engaging in one-one-one conversations with practitioners and practice managers who hope to increase client satisfaction rates and animal wellbeing on a daily basis:
98% of whom are veterinarians themselves
85% of whom make purchasing decisions
82% of whom work with 2+ veterinarians
87% of whom have practiced for 6+ yrs.
"Institute attendees are highly experienced. They know exactly what their practices' concerns are. Yet, they don't always know how to solve them—or which products best suit their individual practice needs. That's where Scriptel comes in.
"It's our job to help them make sense of the technology landscape. We do that by identifying digital signature, capacitive touchscreen, and software packages (like ScripTouch Sign and Save) designed to give their practices a distinct advantage."
Scriptel electronic signature solutions are proven to streamline patient registration, simplify in-house EHR management, and improve care delivery through rugged, reliable, Point-of-Sale (POS) technology backed by Industry Best technical support.
Scriptel's no-scratch, glass-surface, electronic signature pads include the ScripTouch Compact LCD and USB-interface equipped ScripTouch Slimline and Desktop LCD signature capture devices. Sign and Save software and apps like mSign help take integration one step further.
The weeklong 2018 NAVC Institute is being held at the Caribe Royale Orlando, which offers one-bedroom suites and two-bedroom villas. The resort is accessible via the Central Florida Greenway and is located at 8101 World Center Drive (32821).
Event details and registration are available at NAVC.com and NAVC.com/institute.
Veterinarians and veterinary practice staff who are unable to attend the 2018 NAVC Institute can learn more at Scriptel.com. They may also request a free product trial by calling the Scriptel's Sales Team at (877) 848-6824.