ScripTouch TWAIN Plugin
The ScripTouch TWAIN plugin allows all ScripTouch devices to operate as a standard TWAIN device, and to be used with software that supports TWAIN interfaces.
Download
Features
Supports TWAIN standard used in many Windows applications
32 and 64-bit data sources available
Ability to run without a display user interface
Integrated TWAIN support with this software
Signature supported by Scriptel TWAIN in Imageware EpiSuite
Signature easy to configure in Kofax Capture
Configure Scriptel Signature Pad for Kofax VRS
Instructions on how to enable the Scriptel TWAIN driver provided to be used with VRS / Image Controls (TWAIN on bottom) for capture into Image Controls applications such as Kofax Capture.
Steps
Run C:\Program Files (x86)\Kofax\ImgCtls\bin\ScannerConfigUtil.exe
A "Scanner Configuration Utility" box will display. On the left side (see image below) is a box labelled "Limit scanner list to." To see the Scriptel pad, you need to allow non VRS-Certified scanners to show in the list.

Uncheck the "VRS-certified scanners" checkbox.
In the "Available image devices" window, you will see all of the available scanner drivers (see below).

Expand the "Scriptel" folder. Click "Scriptel ScripTouch."

Click "Configure Sources…"

Click "Create Standard Sources."

Click "Properties."

Make sure that "Enable TWAIN user interface" is selected.
This will allow the Scriptel interface to pop-up.

Click "OK."

Click "Close."
Done
Your source should now be available to Kofax Image Controls applications like "Kofax Express" and "Kofax Capture."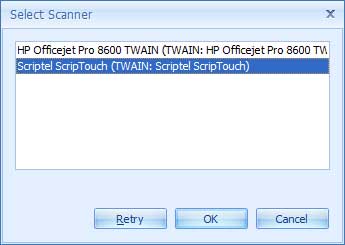 Using the Scriptel Signature Pad
Requesting the scanner (acquire) will launch the listener and allow entry via the pad.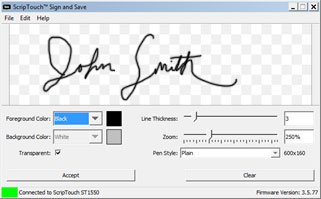 Troubleshooting the Scriptel TWAIN driver
Set Environment variable:
SCRIPTEL_TWAIN_LOG_FILE=C:\Temp\Scriptel
Creates a log file as: scriptel_twain.txt