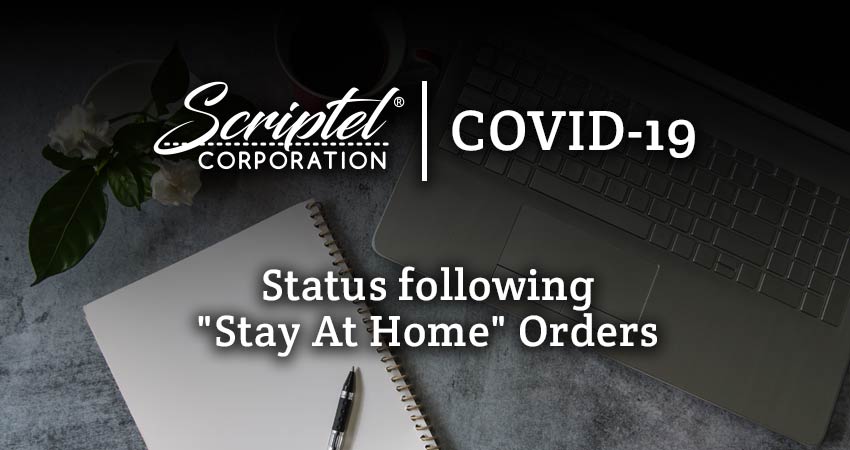 COVID-19: Status following "Stay At Home" Orders
Update of March 23, 2020. Read my previous March 21 COVID-19 update.
Pursuant to the State of Ohio Department of Health Director's Stay at Home Order of March 22, 2020, Scriptel Corporation is classified under Section 12 paragraph q as a supplier for Essential Business and Operations. Accordingly, Scriptel continues to operate while this order is in effect.
Scriptel Corporation's operations in the State of New York also comply with the guidance given together with the New York State on PAUSE order of March 20, 2020.
Scriptel Corporation maintains constant contact with its suppliers in the State of Ohio and elsewhere, has informed them of our status and has confirmed that they are also continuing to operate and able to supply us with parts as we require. Scriptel does not anticipate any loss of capacity to supply product or support customers as a result of these orders.
To do its part in protecting our communities and implement maximum social distancing, Scriptel Corporation has gone beyond the requirements of the Ohio and New York orders and moved nearly all operations to work-from-home, including the majority of our product assembly and packaging. Scriptel will maintain, as specified in Section 13 of the Ohio order, Minimum Basic Operations at our main offices in Columbus, Ohio. All goods receipts and product shipments will continue from this location.
Additionally, all RMA activity will continue from the Columbus, Ohio main office. Scriptel Corporation will continue to support its end-users that rely on their signature pads as a critical part of their workflows with its RapidCare overnight advanced replacement service.
Scriptel Corporation is a supplier to critical services in our economy and communities, including hospitals, and we are happy to confirm that our operations will be able to continue without noticeable change for our customers, partners and suppliers.
Stephan Herron
CEO, Scriptel Corporation