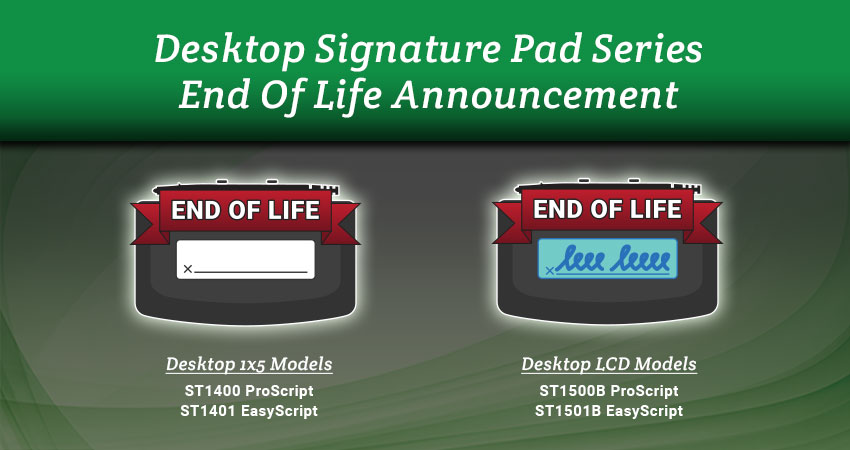 Desktop Signature Pad Series EOL Announcement
Scriptel Retires its Original Signature Pad Product Line
COLUMBUS, OHIO (May 17, 2019) – The Desktop 1×5 and Desktop LCD signature pads are on end-of-life status and future availability is limited to existing stock. Customers have been directly informed. Recommended replacement products are the Slimline Signature Pad Series: Slimline 1×5 and Slimline LCD. The specific model numbers affected are the ST1400, ST1401, ST1500B, ST1501B and their prefix and suffix variations. The ST1500 and ST1501 were previously made end-of-life in 2017.
The respective replacement models are the ST1475, ST1476, ST1570, ST1571 and their variations.
"The Desktop series was Scriptel's initial entry into the market for signature pads 10 years ago and it has served our customers well with the Desktop LCD having been our best overall selling product during those 10 years. Recent changes in critical electronic components availability make it difficult to guarantee future production at competitive prices for our customers and we feel that the time is right to retire the product with full support guaranteed into the future," said Scriptel Corporation CEO Stephan Herron. "The Slimline series products are a worthy successor, with the same rugged reliability and a more ergonomic design, and are proven with more than 4 years in the market."
Scriptel will continue to support all the Desktop series signature pads sold until the end of their 3-year warranty periods for repair or replacement and expects to have parts available for repairs even beyond that period.
For any questions about this change, please contact our sales team at (877) 848-6824 or by email at sales@scriptel.com.
###
About Scriptel
SCRIPTEL CORPORATION leads the way by advancing rugged, reliable eSignature and signature capture technology. Our Citrix Ready, plug-and-play hardware and software solutions make easy work of document signing, electronic recordkeeping and practice management in Dental, Healthcare, Retail, Tax Prep and other dynamic environments.
Scriptel (est. 1982) has a history of leading through innovation, bringing the first peripheral to mimic superior pen input on an LCD screen to market. Today we produce and provide unmatched support for a full suite of ScripTouch® signature pad and workflow products, including EasyScript™, ProScript™ and mSign®.
Scriptel is based in Columbus, Ohio, and has deployed more than 3 Million products worldwide. Which of our hardware and software solutions best suit your needs? Find out! Request a 30-Day, Risk-Free Trial at Scriptel.com.