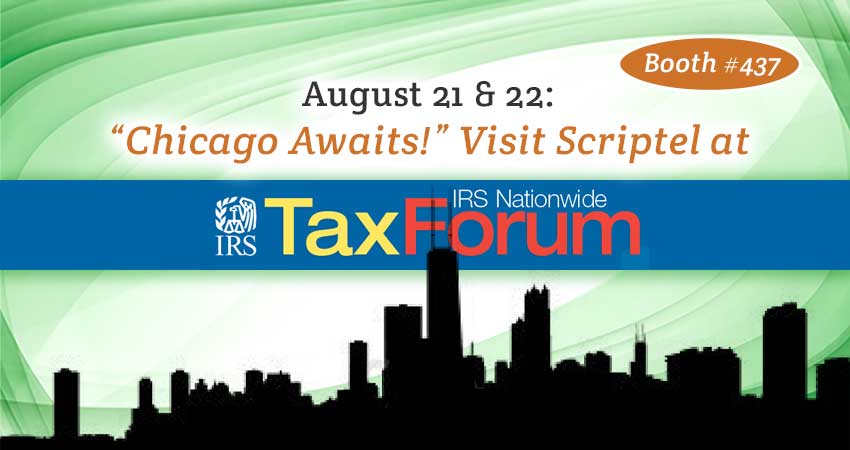 AUG. 21 & 22: Your Tax Technology Questions Answered
Chicago Awaits! Visit Scriptel in Booth 437 at IRS Nationwide Tax Forum
Get your tax technology questions answered and take time to explore Chicago's Riverwalk district and Magnificent Mile while attending the 2018 IRS Nationwide Tax Forum at the Hyatt Regency Chicago (151 E. Wacker Drive) from Aug. 21 thru Aug. 23.
Scriptel Corporation staff will be set up in Booth 437 on Tues., Aug. 21, and Wed., 22.
"Our company was founded," says Scriptel President and CEO Stephan Herron, "with the goal sharing our technological expertise with professional enterprise users like you."
"Since then, more than 3 Million of our capacitive pen, capacitive touchscreen, and Citrix Ready electronic signature pads have been deployed worldwide. We're known for providing hardware and software solutions which are rugged, reliable, and great for tax preparers on the go. You won't find better pricing, warranties, service—or support!"
What are IRS Nationwide Tax Forums?
IRS Nationwide Tax Forums offer attendees three full days of seminars. Get the latest word from IRS top brass and from experts in the fields of tax law, compliance and ethics. Learn more at IRSTaxForumsOnline.com or email TaxForums@IRS.gov with your questions. At the IRS Nationwide Tax Forum in Chicago, you'll be able to:
Peruse Scriptel's robust tax product line.
Attend a number of live, tax-specific seminars.
Earn CPE/Continuing Professional Education credits.
Participate in Case Resolution (pre-registration required).
Get hip to new products/services for tax pros in the Expo Hall.
Tax preparers, accountants, and other tax professionals who regularly use products by Adobe, CrossLink, Intuit, TaxWise, etc., have a lot to gain by exploring Scriptel's product line. While in Chicago, ask about our cutting-edge apps—which are designed to keep you moving.
Ask, too, how Scriptel eSignature, handwriting recognition, and document management tools can help you grow your business even further, as you continue to provide top-tier tax preparation services for individuals and businesses locally or across the country.
Stop by Booth 437. Can't be there? Email Sales@Scriptel.com or visit Scriptel.com.