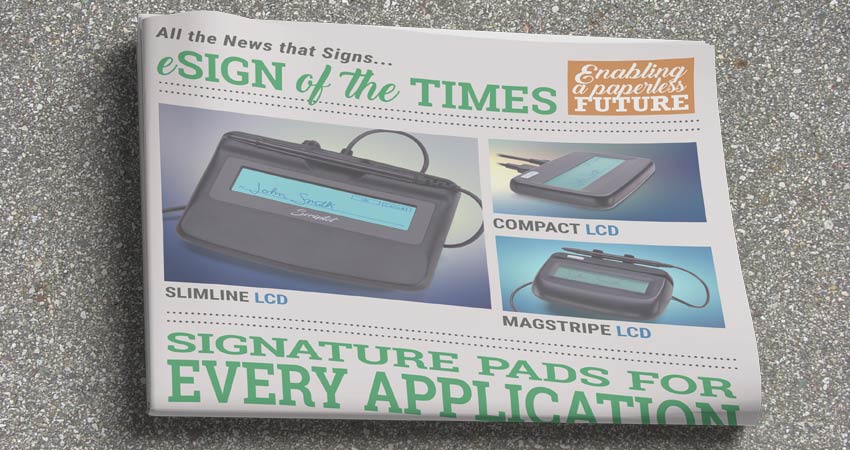 Scriptel Corporation's Latest Electronic Signature Capture Products Now Available at Computime
Columbus, Ohio (PRWEB) — May 14, 2013 — Scriptel Corporation (Scriptel) today announced a new business relationship with Computime that will make Scriptel's industry recognized Electronic Signature Capture products available through Computime.
"As a pioneer of eSignature technology, Computime has a very well developed sales and marketing team that are very knowledgeable about eSignature technology as well as its practical applications in the marketplace," said Steve Allyn, Vice President of Marketing and Sales at Scriptel Corporation. "In the document-centric marketplace, Scriptel is known for combining superior performance with extreme durability. The combination of these products and Computime's sales and global distribution channel will be an important piece to giving consumers a choice in signature capture technology."
Already a substantial resource for eSignature capture products, the addition of Scriptel's ST1500U and ST1501U signature pads to Computime's offerings provide the marketplace with 'best of breed' solutions while increasing the company's value in the eSignature products arena.
"Computime has known the Scriptel name for many years and with the recent changes to our business model, we felt that Scriptel's products would fit many applications our customers are seeking at a price point that makes sense," said Josh Levey, CEO of Computime. "From the Computime perspective, the Scriptel eSignature products will create some great synergies with our growing line of eSignature hardware and software solutions."
What separates the ST1500U and ST1501U Electronic Signature Pads is the use of Scriptel's Static Capacitive Glass and Active Digital Pen technology, which is deployed in nearly 3 million devices worldwide. The primary sensing layer is coated underneath the glass, enabling it to perform in the midst of scratches and debris.
This technology also maintains a high palm rejection rate, allowing unobstructed signature capture when hands or fingers are in contact with the sensor, a feature uncommon in most capacitive digitizers. Designed to exceed 2 million signatures, the ST1500U and ST1501U electronic signature pads rugged construction resists accidents, including spills and drops, and is tailor made for high traffic deployments.
The ST1500U Electronic Signature Pad comes out of the box supporting Microsoft Word, Excel (2007 and 2010), Adobe Acrobat (8, 9, and X), and Adobe Reader X.
Designed and manufactured with universal integration hardware, the ST1501U Electronic Signature Pad integrates into custom web applications or platforms and includes browser agnostic firmware that allows developers to leverage any major web browser, including Internet Explorer, Firefox, Chrome, Safari, and Opera. The signature pad also allows developers to connect to any major computer operating system including Windows, Mac, and Linux without downloading 3rd party drivers or plugins to capture signatures from the device.
Traditionally, the only way to call a signature pad from a web browser was by creating custom Java or ActiveX controls. This not only requires significant development, but also consistent support due to the ever changing landscape of web browsers and operating systems. Scriptel's solution addresses both of these issues by utilizing generic drivers inherent to all modern computer operating systems and passes signature data directly to the browser.