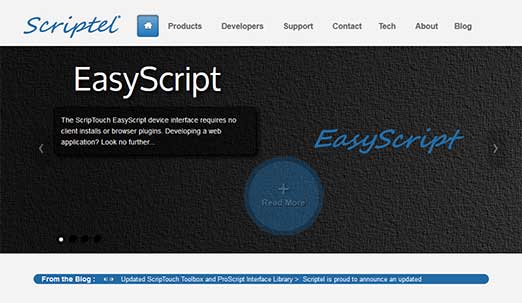 We've been working hard the past few weeks to redesign the main parts of our website to be more user friendly, make important sections easier to find and assist developers in deciding what API options make the most sense for their projects.
Our homepage was re-designed to improve the overall user experience. You will find product, warranty, software, and support information along with a scrolling list of blog posts. Our unique solutions are highlighted in the main banner.
The updated product pages contain information about our ScripTouch signature pads. Everything about how we explain our products has been updated, including descriptions, photos, product drawings, data sheets, and software download info.
When integrating support for an electronic signature pad, developers must also quickly be able to know what device interface and API are most suited to their application model and development environment. Signature pads have no industry device interface standard, so choosing a development path can be confusing. We make it a lot easier to get going by breaking down our integration platforms according to operating system, feature support, and development environment/language support with an interactive chart.
A link is now included on Product Pages that will take you directly to information on how to purchase a Scriptel signature pad.
We hope that you will enjoy browsing our updated site and we encourage you to keep coming back because we aren't finished yet!